Welcome to Kings of Comedy!
*PLEASE NOTE* We are currently overseas and the 0468****** number is not working, so please send all comedy related messages to our email via info@koc.lol and we will get back to you ASAP.
Thank you! :)
Our 4th Melbourne International Comedy Festival is over and done, thank you to our amazing comedians and punters who have supported us in the last four weeks of outstanding comic experiences!
Everyone who missed out on Melbourne's most popular showcase, do not fret, we are back every week with more LOLs after the festival.
New shows, new comedians, it's all happening at Kings. Book your tickets now and join us for our fun nights of non stop laughs.
Our Melbourne International Comedy Festival shows have been super popular again this year. Come and join us with the most loved weekly showcases in Melbourne. Kings of Comedy is THE place to be for your quality weekend entertainment with delicious dinner packages available. Click the button below and book now.
Welcome to Melbourne's best comedy clubs 'Kings of Comedy'. Kings continue to evolve as one of Melbourne's most popular weekend destinations for non stop laughs.
Now introducing Kings of Comedy's new Late Knights, a rare and unique mix of cheap comedy, cheap jugs, free pizza and "smoker friendly" venue- it doesn't get better than this! Late Knights are fun-packed and risk-free 'something for everyone' comedy showcases for all those night owls looking for a relaxed home to hang when it is just too early to stop laughing on Thursday nights! This is the the lotto of laughs you are guaranteed to win.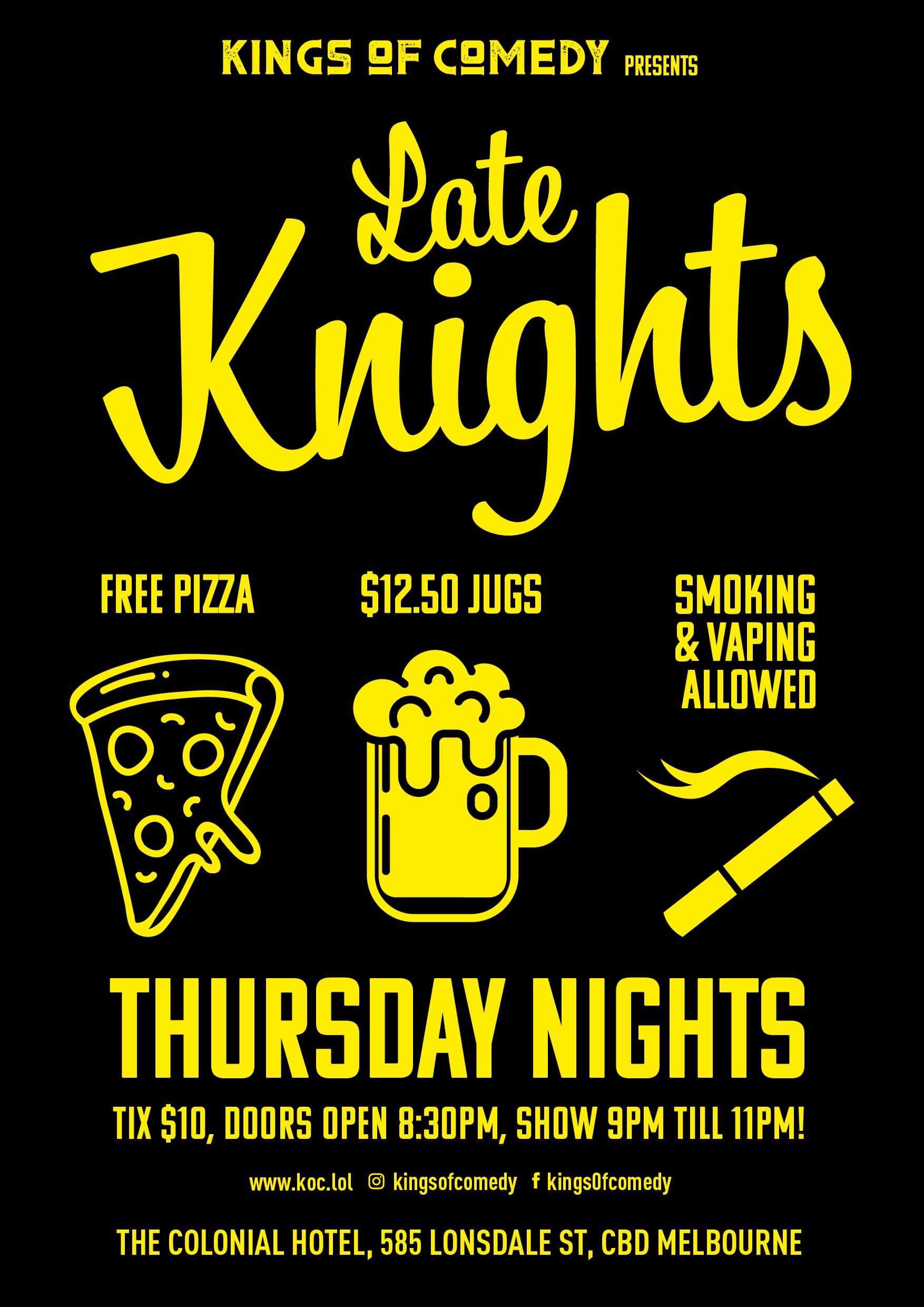 Whichever night you choose, come join us for a solid night of live entertainment at one of Melbourne's fastest growing comedy clubs, entertaining you every weekend! Showcasing some of Australia's best new talent, supported by celebrity headline acts. A great way to see tomorrow's comedy superstars on their way to the top, with a range of comedy styles to suit every taste. Professional headline acts such as Dave O'Neil, Dave Hughes, Lehmo, Bob Franklin, Denise Scott, Fiona O'Loughlin, Tony Martin, Richard Stubbs finish off the night with non-stop laughter. This really is the night out you've been needing. Regulars leave the night with sore jaws, stomachs and a positive vibe that can't be matched. (See testimonials below)
So book a babysitter, send the kids to the Grandparents and head on down for a scrumptious meal and night you won't forget. Call that person you've been meaning to take on a date, now you have a 'good excuse' ;)
Go on... You deserve a fun night out!
Read about Kings in the Media
Extra Extra, read all about it! Hot off the press, read what the media is saying about the royal experience at Kings of Comedy this year:
Now that you know more about why Kings is THE place for weekend comedy entertainment, go ahead and see for yourself why punters leave with sore tummies and wet eyes...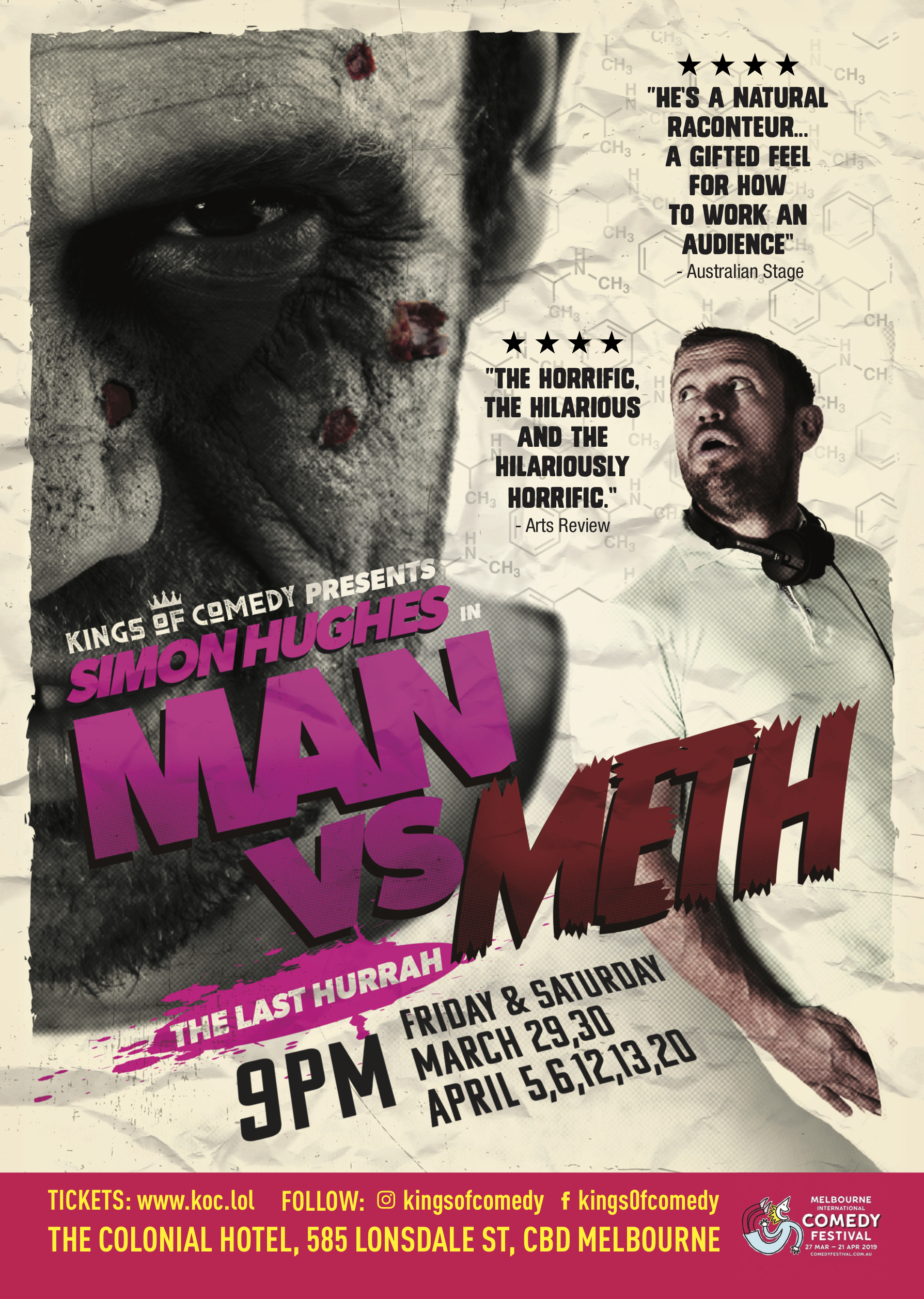 Find us here: